Since its founding in 1975, Stewart's International School for Jewelers has stood at the forefront of post secondary trade schools providing specialized training programs for jewelers, and has built up its position as America's leading jewelers' school on the foundation of our graduates' success.
Whether your reasons are to increase the scope of your present business, add a hobby or to launch a new career in a profitable business we offer the knowledge you need to be successful. A world of opportunity exists today in the jewelry profession for those who have the ambition, talent and education to take advantage of this burgeoning profession. We hope you will take this opportunity to learn the art of diamond setting, jewelry making and gold casting,
Act today! Enroll in the program dates of your choice. Space is limited so mail or fax your completed Enrollment Agreement today or call for more information. For a printable copy of the Enrollment Agreement click here. If you have any questions after viewing this material, please contact us by Email, telephone or FAX (see bottom of page). If you would like to have a current Catalog mailed to you click here.
Questions, comments or concerns go here.

The year 2023 schedule is available here.
Thank you for visiting our Web Site.
A section, 'Bench Tips' is available to save you time and make your job a little easier. Click here or go to the

button at the top of this page.
Introduction | Class Outline | Class Content | Class Schedule
Programs | General Information | Facilities | Policy

Licensed by the
Commission for Independent Education
325 West Gains Street, Suite 1414
Tallahassee, Florida 32399-0400
(888) 224-6684

Thank you for stopping by this site.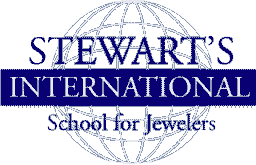 651 W. Indiantown Road, Jupiter, Florida 33458
1-800 843-3409 (toll free)
1-561 746-7586
Email: JewelSchl@aol.com


Copyright 1996- Stewart's International School for Jewelers Inc.
History

Page created and maintained by:

Page last revised